---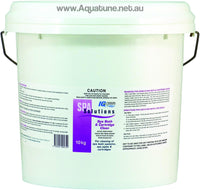 IQ SPA SOLUTIONS SPA BATH & CARTRIDGE CLEAN - 10kg
For cleaning of spa bath systems, pipes and cartridges
Alkaline Salts 28 g/kg available Chlorine present as Sodium Dichloroisocyanurate
Removes build up of oils, grease and other contaminants from pipe work in Spas,
Spa Baths and filter cartridges.
Application:
Use before emptying spa or spa bath by following instructions on pack.
Filter cartridges may be cleaned by soaking in a bucket containing a solution of Spa Bath & Cartridge Clean.