---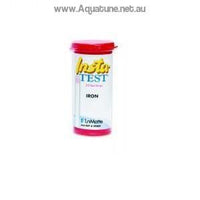 Insta-TEST Iron Test Strips
New & improved!  For the quick and easy determination of iron in water.
New one-dip iron formula eliminates the need to pre-treat the sample with a reduction tablet prior to measuring iron with a test strip.  This test strip offers stable colour development with very distinct colours.
Directions for use
Immerse Insta-TEST Iron strip for 2 seconds.  Remove with pad face up.  Shake once to remove excess water.  Wait 60 seconds and compare to colour chart.
Premium quality packaging!

Insta-TEST Iron are packaged in LaMotte's patented PopTop bottles, with clever features designed to protect your strips for longer:
•  Molded desiccant liner, eliminating loose desiccant bags.
•  Hinge guarantee for 1000+ openings
•  Airtight & waterproof seal to lock out moisture & light
•  Durable, high density HDPP outer shell