---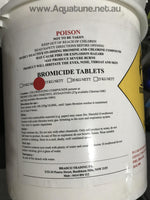 Supreme Bromine Tablets 20gm 15kg bucket (Large domestic or Commercial size)
Contains: CHLORINATING COMPOUNDS present as 
BROMO CHLORO DIMETHYL HYDANTOIN:
27g available Chlorine/100g;
64g available Bromicide/100g
Directions for use:
Dose system with 100-250g/10,000L, until 1ppm Bromine residue is maintained for at leaase 4 hours.
Risks:
Contact with conbustible material (e.g. paper) may cause fire. Harmful if swallowed. Contacts with acids liberates toxic gas. Irritating to the eyes and respiritory system. Very toxic to aquatic organisms.
Safety:
Keep container dry. Do not mix with other chemicals. Only add product to water, do not add water to product. Incase of fire or explosion do not brethe fumes. Wear suitable protective clothing. Store in a cool, shady, well ventilated space.
First Aid:
If material contacts eyes wash with plenty of water and cotact a doctor. If swallowed do not induce vomiting, give a glass of water.
Emergency:
in case of fire drench with water.
Delivery Note: This product is a Dangerous Good and may not be able to be delivered to some parts of Australia. If there is an issue with delivery, you will contacted after purchase.