---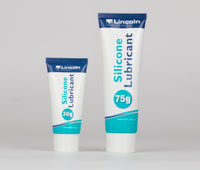 LINCOLN SILICONE LUBE - 30G TUBE - LSL30
Lincoln silicone lubricant is a protectance for rubber, plastic, metal and wood.
It is non conductive, water resistant and protects against corrosion
Suitable for Swimming Pool equipments, fishing tackle, O-ring lubricant, valve lubricant, surface protection,
Gaskets, Rubber grease, release agent, specialised lubricant, battery terminals.
Directions:
Apply to a light coating to the surface that needs to be treated.