---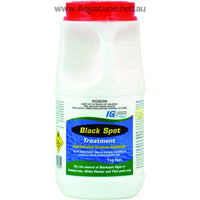 IQ BLACK SPOT CONCENTRATED GRANULAR ALGAECIDE
Controls blackspot algae in pebblecrete, plaster and tiled pools
900 g/kg available Chlorine present as Trichloroisocyanuric Acid (TCCA)
For use in Pebblecrete, white plaster and tiled pools only. DO NOT use on any artificially coloured surface. Product has high chlorine / low pH. Granules can be directed to specific areas and slow dissolving action of Granular Blackspot will kill and bleach Blackspot and stains.