---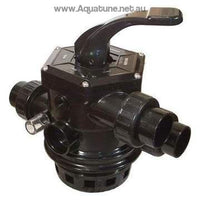 Sale
Waterco Filter Multiport Complete 40mm Valve -  228042
The Waterco Filter Multiport Complete is Manufactured from chemical resistant PVC to protect from the chemicals and UV stabilised for a longer lifespan in the harsh Australian conditions for years of use.

Replacing the multiport will prevent air leaks in the filter thus creating air pockets in the filtration system and decreasing performance. The Handle and Rotor also wears and will not lift or seal Rotor after changing cycles allowing water to leak either out of the multiport or out the backwash / waste line.

This Top Assembly Waterco Multiport Valve will replace both the grey or black hexagonal valves. It is a threaded unit for "Screw In" applications only.
Features -
Includes Unions & O Rings
40mm outlets (which is 50mm outter pipe diameter), please check if this is suited to your current multiport
Suitable replacement for D400, SD500, SD600, S600, S700, T400, T450, T500, T600 F400, F450, F500, F600 Waterco Sand FIlters
Does not suit multiports that requires a clamp application
Does include tank o ring but not a pressure gauge
Also suits Aquaswim Models