---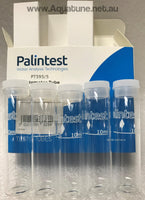 Palintest Photometer Test Tube
A pack of 5 glass test tubes for the Palintest Pool 9 and Pool 10 Photometers.
After a while of using your Palintest photometer you may get some funny readings due to the build up of a chemical haze.
these glass test tubes are the 10ml ones suitable for the newer photometers (not the short fat tubes).
75mm long 
25mm diameter
plastic cap