---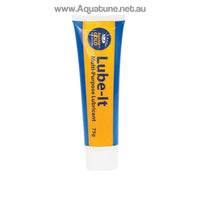 The Aussie Gold silicone based multi purpose lubricant is non-toxic and ideal for maintenance and lubricating o-rings and some surfaces. At the start of every swimming season it is a great idea to give your equipment a once over, giving the pump a good run making sure that the filter pressure isn't to high checking the salt cell if your pool is salt and lubricating all rubber o'rings to prevent any small leaks turning into major issues down road. NEVER use Vaseline!
Great for rubber o-rings.
Seals small leaks on joins.
Suitable for swimming pool equipment and salt applications.
Prevents break down and drying out of o-rings.